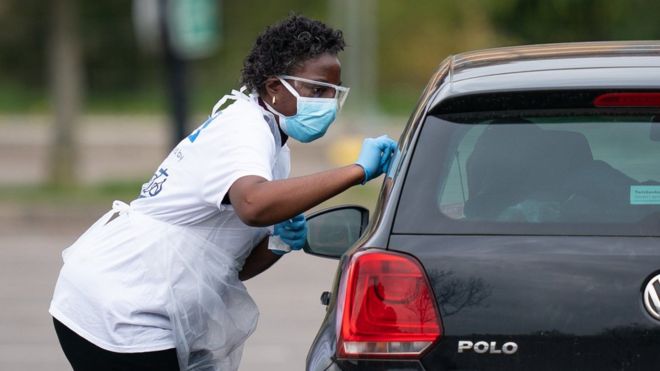 The government is likely to meet or "come close" to its target of 100,000 daily UK coronavirus tests, Communities Secretary Robert Jenrick has said.
Health Secretary Matt Hancock said the government would achieve the aim by the end of April – which was Thursday – and those figures are expected later.
Just over 81,000 tests across the UK took place on Wednesday, but ministers said there was capacity for more.
It comes as the PM said the UK was now "past the peak" of the outbreak.
Mr Jenrick told BBC Breakfast: "I don't have the figures yet, they'll be published later today… but it looks like we'll either meet the target or come close."
He added the target was "just a stepping stone" and that the foundations were in place for a strong national testing network.
The number of people who have died after testing positive for Covid-19 in UK hospitals and the wider community is now 26,771, a rise of 674 on the previous day, the latest figures show.
A further 40 deaths were announced in Scotland on Thursday, taking the total there to 1,515.
UK-wide figures and figures for the other nations will be published later.


If the government achieves 100,000 tests it will certainly be a remarkable achievement. Remember at the start of April, 10 times fewer were being carried out.
A testing network, including three mega labs, more than 40 drive-through centres, a home-testing service and mobile units, have been set up in super quick time.
But there is a fear within the system that the frantic rush to get to the target has come at a cost.
It is noticeable that the extension of eligibility this week to the over-65s and anyone claiming they have to leave home for work this week in England has coincided with a significant increase in tests being carried out.
Yet care homes are reporting they are struggling to get access to tests, while NHS workers have found testing slots have sometimes been taken up by the time they try.
Some argue a more planned, considered approach not based on simply hitting a number may have been better.
After all, an efficient testing system coupled with a system to track and trace close contacts of infected individuals is going to be crucial in gradually moving out of lockdown.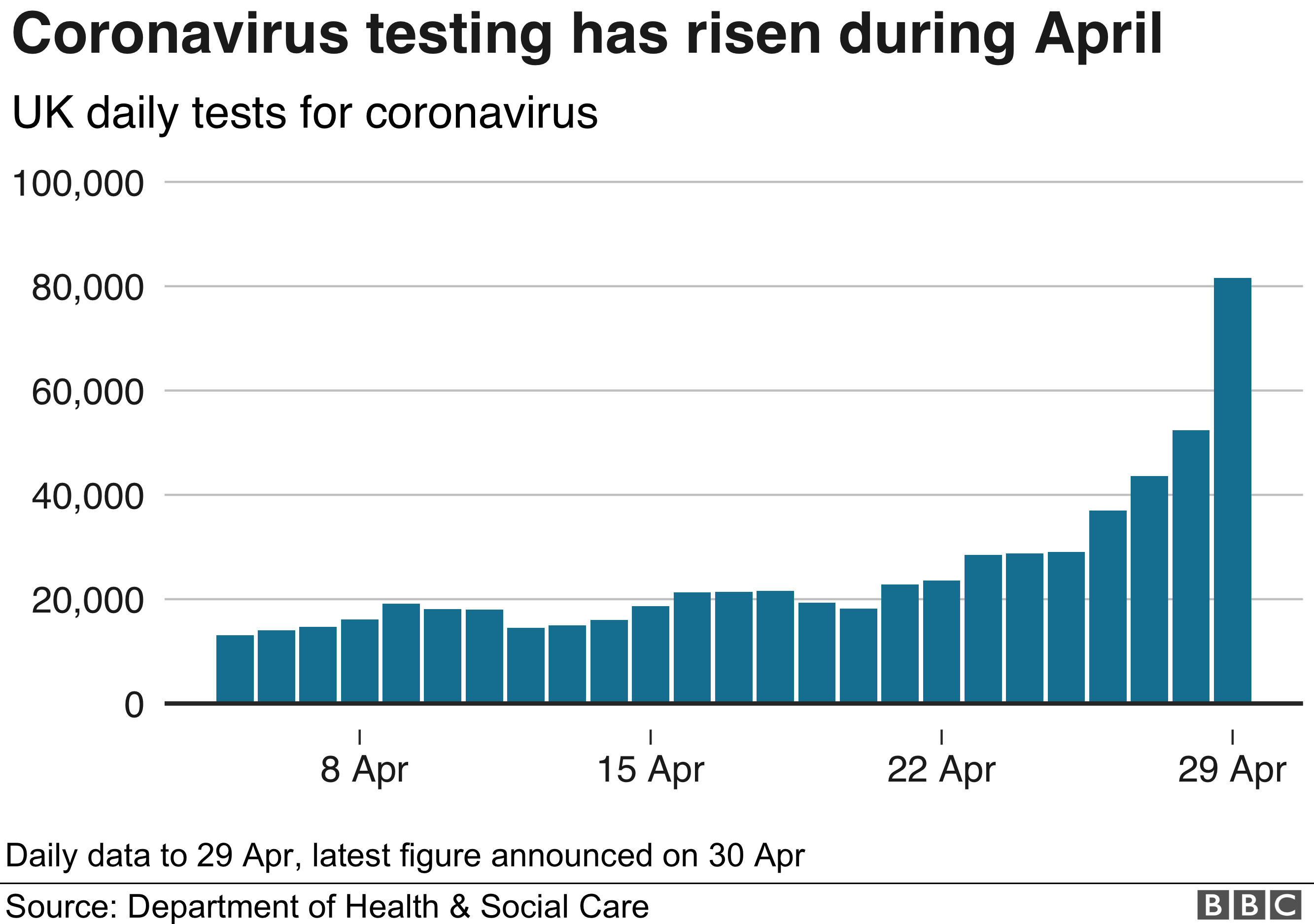 Shadow home secretary Nick Thomas-Symonds said testing needed to be linked with contact tracing, adding that he hoped this would form "an important part" of the government's exit strategy from the lockdown.
Prof Devi Sridhar, an expert in global public health from the University of Edinburgh, said testing needed to be used as part of a contact tracing strategy, which involves identifying people who had been infected and then track down anyone they had been recently in contact with.
Anyone who tests positive for the virus can then be told to self-isolate, she added.
Prof Sridhar, who is among those advising the Scottish government on its response to the pandemic, told BBC Radio 4's Today programme: "Testing on its own is useful but not really the full package."

'It was a shambles'
Care home worker Gemma McGoldrick, 30, was advised to get a test after developing Covid-19 symptoms.
Ms McGoldrick said she turned up 10 minutes before her allocated slot at the testing site at Doncaster Sheffield Airport, but had to wait an hour before she was seen and was there for more than two hours in total.
"It was just a shambles – it was so slow and none of the workers seemed to know what they were doing," she said, adding that she was concerned the test would not be accurate.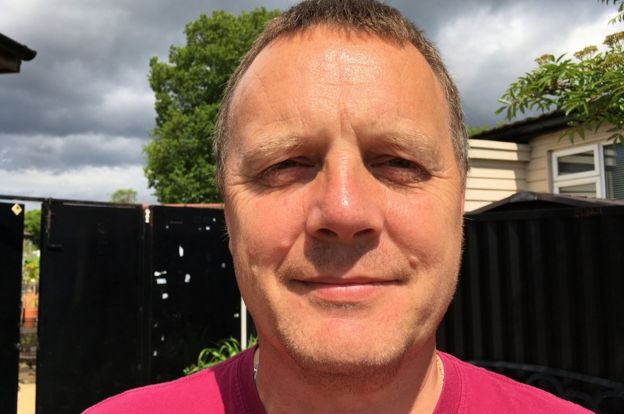 However, others told the BBC they had a more positive experience at testing centres.
Ian Mitchley, who works for a food retailer, has been self-isolating because his partner has had symptoms and decided to book a test so he could return to work if he found he did not have the virus.
"You get a half-hour time slot, so I thought I would definitely be there for a few hours. I was in and out in minutes," said Mr Mitchley, who lives in London.
"I was really quite impressed with the whole thing."

Meanwhile, Scotland's First Minister Nicola Sturgeon has announced an expansion of testing in the country's care homes as well as increased eligibility for tests.
All residents and staff will now be tested in any care home where there has been an outbreak of Covid-19, regardless of whether they have symptoms.
Ms Sturgeon added that those aged over 65 and anyone who needs to leave home to work will also now be eligible for testing if they have symptoms, such as a fever or persistent cough.
The Scottish government had previously set a target of 3,500 NHS tests a day by the end of April. Ms Sturgeon said Scotland now has capacity to carry out 4,350 coronavirus tests a day in NHS laboratories, although only 2,537 tests were carried out on Thursday.
'Comprehensive plan'
Speaking at the No 10 briefing for the first time since receiving hospital treatment for Covid-19, Prime Minister Boris Johnson said on Thursday evening that the government was "massively ramping up" testing, and that the country was now "past the peak of this disease".
The PM added he would set out a "comprehensive plan" next week on how to restart the economy, reopen schools and help people travel to work following the coronavirus lockdown.


Shadow home secretary Mr Thomas-Symonds said Labour hoped the plan would set out the different possibilities for the future so public services could plan ahead.
He added that the party would "scrutinise it extremely carefully" but hoped to be able to support the plan set out by the prime minister.
Meanwhile, Welsh First Minister Mark Drakeford said any move to ease the lockdown in Wales would be "careful and cautious".
"You can open up anything you like – if people don't think it's safe to take up what is now available to them, they won't come," he told BBC Radio 4's Today programme.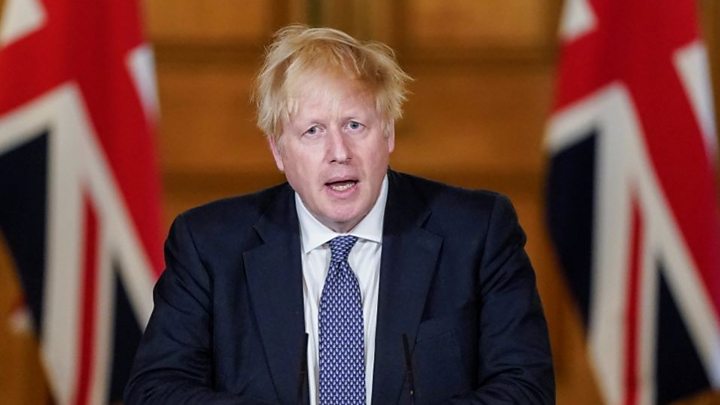 In other developments:
More than 60% of people in the UK would be uncomfortable about going out to bars and restaurants or using public transport, if ministers decide to relax the lockdown, a survey suggested
Coronavirus patients from black African backgrounds in England and Wales are dying at more than triple the rate of white Britons, a study found
Introducing social distancing at airports is "physically impossible", the boss of Heathrow warned
Ryanair boss Michael O'Leary said it will take up to six months to refund passengers for flights cancelled because of the pandemic. The company also said 3,000 jobs were under threat
Face coverings worn by the general public will be "useful" as part of the UK's strategy for coming out of lockdown, the prime minister said
More than one million people across the world known to have had the virus have recovered, according to Johns Hopkins University
Original article: https://www.bbc.co.uk/news/uk-52496227